Claudya of
Unknown Mami
fame has a nice little thing going where she celebrates the abundance of the Universe on Wednesdays by making her wishes known, and invites others to do the same. The idea behind posting her wishes is that as she says
"... the first step toward getting what you want is knowing what you want."
By putting our wishes down in black and white we are consciously taking the time to figure out what it is we want, and thus the likelihood that we will receive or achieve our wishes rises exponentially with our acknowledgment of the wish. I encourage all to join us in celebrating the abundance of the Universe. Your wishes can be big or small, silly or serious because the Universe is vast and can handle them all.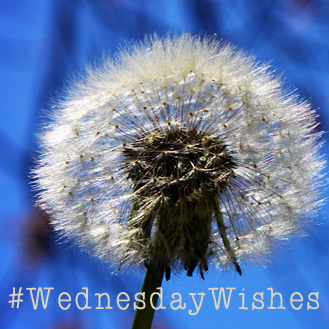 After missing a number of weeks, this week I have decided it is time for me to get real, so here goes.
Life is a challenge, sometimes that challenge can become overwhelming resulting in stress, anxiety and yes even depression. Optimism during such times can be our greatest asset, yet it too can suffer the blow of the challenges we face. This is where I have been for nearly a year now, with it spiraling this last month to a place where no creativity thrives and even conscious thoughts struggle to survive. A situation verging on impossible. Faced with decisions that feel like they have no viable solutions. Zapping my optimism as well as my ability to focus, to create, to write.
A while back Michelle at
The Space Between Raindrops
wrote a post about desperation that really resonated with me. She wrote:
"Desperation breeds attempt. It makes people do things they usually avoid, it unearths latent talent, gets us off the couch, makes us find jobs and research health improvements. Desperation turns us into learners and seekers. Desperation is responsible for the achievement of more than a few of the world's impossible dreams. Desperation is fuel." Although it has taken weeks, her words have moved me to use this desperation for the positive.
Yes, without going into details which I am sure you don't really want to hear, my situation is desperate. Suffice it to say I have until the beginning of the new year in which to decide if I will give up my dream of making
Artistix Network LLC
a profitable business, if that is even possible, or close it down. Beyond that, for my sanity I have until May of next year to find a way to become financially independent. Now that may not sound like much of a challenge, however due to various health issues working a regular full time job where I am unable to set my own hours is not possible. So far I have been unable to even obtain a part-time job. With this in mind here are my wishes:
I wish to find a way to make a livable income from one or more of my talents and abilities.
I wish for the strength and courage to explore all possibilities, and learn how to make them profitable.
I wish to regain my optimistic outlook. To take back my life and embrace my life motto.
Oh yes, and Mother Nature ... a bit of sunshine would be real nice about now.

Because the universe is filled with endless possibilities one more wish:
I wish you all a glorious day!
Set the winds in motion with a wish of your own.