It's Wishing time again! That is right we are half way through the week so it is time to let the universe know what we are wishing for. Just click on the Wednesday Wishes button below to join us and let the universe know what you have been wishing for.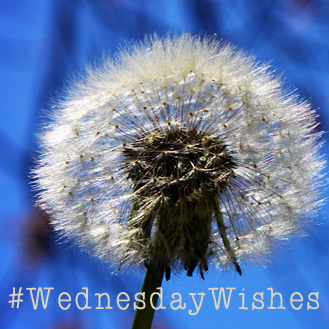 Before I make a wish this week I want to share some fantastic wishing news. That is right, the universe has listened and this writer's wish has finally come true! After this post I took the Universe's hint and got serious about getting started publishing my writings. I decided to start off with the poetry I had sitting in my to be published folder. After a busy week formatting the book I had a minor set back in that the book was too short so in this post I asked others opinion. The idea of adding a few short stories was well accepted so that is what I did. Next came the cover design and let me tell you I really enjoyed creating this cover. I am almost as excited about the cover as I am that I published the book. Here is a look at the cover and link to preview my book 'Strength of Time: Weathering Life's Storms'.
I know self publishing is not the same as being published by some well known publisher but I decided to take the easier and less stressful route and self publish. After some research I decided to go with Lulu as the steps to self publishing were easily explained and relatively stress free. I find the least amount of stress the better, if you know what I mean. Another major point for me was that they make it easy to sell not just on Lulu but on Amazon as well as make the book available to major book stores such as Barns and Nobel.
Thank You Universe for the nudge in the right direction and granting my (dream) wish to be a published author.
Now for this weeks wishes:
I am wishing that people will buy my book and that my writing will inspire, encourage and delight the readers so much so that they will anxiously await my next book, which will be a journey into imagery.

That my blood pressure settles down so I don't have to go to the doctor.

That all your wishes come true!
Have a Wonderful Wednesday!