It's Wishing time again! I Can't believe it is already Wednesday. My youngest son's wedding is just three days away. Today's the day to head over to Claudya's at Unknown Mami's and ask the universe to grace us with it's abundance. Just click on the #wednesdaywish button below to join us and let the universe know what you have been wishing for.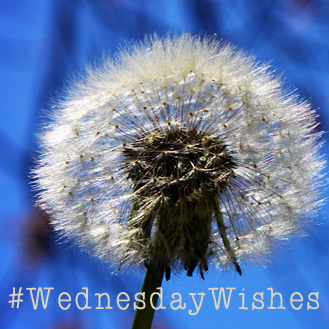 I have a few special wishes for myself and family this week.
I would like to ask that my son and his bride be blessed with a long and happy life together.

I ask that Mother Nature and the Universe co-operate and make Saturday a beautiful day with no complications.

Please see that my granddaughter gets over this nasty virus before Saturday and doesn't wind up in the hospital. She has asthma and I was up with her all night last night giving her nebulizer treatments. I am a bit worried that she could have that nasty virus that is going around. She is the flower girl so she has to get better quick!

Last but not least please let me squeeze out at least one hour of uninterrupted relaxation time for myself.
On a happy note: I completed my dress for the wedding last night and will be posting photos tomorrow along with the story of the crazy time I had making my dress.
May all your dreams and wishes come true!